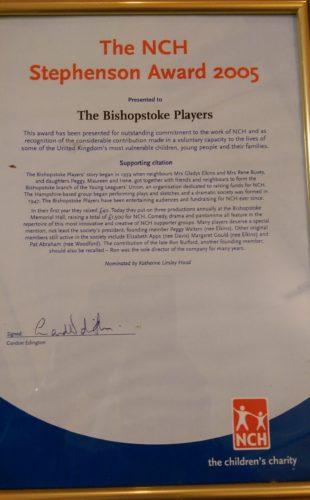 Stephenson Award 2005 certificate
Bishopstoke Players is a drama group based near Eastleigh in Hampshire, UK.
We were formed in 1947 to raise money for what was then the National Children's Home (now Action for Children). Fast forward 70 years and we've presented over 200 dramas, comedies and pantomimes, raising thousands of pounds for charity.
We perform three shows a year in Bishopstoke and regularly take part in one-act Drama Festivals across southern England. A thriving member of the local drama community, we regularly receive awards and nominations for our work.
In 2005 we were delighted and honoured to be awarded the NCH Stephenson Award "for outstanding commitment to the work of NCH and as recognition of the considerable contribution made in a voluntary capacity to the lives of some of the United Kingdom's most vulnerable children, young people and their families.".