Romanoff and Juliet
By Peter Ustinov
Directed by: Pete Burton
Production Dates: 17th – 19th May 2018
PHOTOS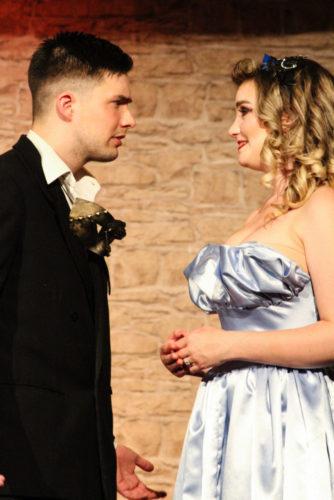 PRESS RELEASE
For our May production this year, Bishopstoke Players are revisiting a play we last performed 26 years ago – we enjoyed it so much that we wanted to do it all over again!
Peter Ustinov's delightful comedy, "Romanoff and Juliet", is set in a tiny, mythical country, lying smack on the border between East and West, which is defended by an army of two and a daring General who is constantly playing off one superpower against the other.
So, what happens when the son of the Russian ambassador accidentally falls head over heels in love with the daughter of the American ambassador?
This charming play cleverly manages to be both a comic spoof of the Cold War and a romantic comedy, with both sides eventually coming to the realisation that international rivalries pale in the face of true love.
This amateur production is presented by arrangement with Josef Weinberger Ltd.
REVIEWS
Scene One Plus
http://sceneoneplus.com/romanoff-and-juliet-2/
Bishopstoke Players
Bishopstoke Memorial Hall
Anne Waggott
17 May 2018
In the smallest fictitious European country, situated exactly midway between East and West, the daughter of the American ambassador falls deeply, desperately and passionately in love with the son of the Russian ambassador…and, despite being in the middle of political unrest and conflict, this is a love that is most definitely requited…
Loosely based on Shakespeare's classic Romeo and Juliet, this delightful play by national treasure Peter Ustinov is both a parody of the 1980s Cold War and a romantic comedy, where both families eventually realise that intercontinental enmities are no match for true love.
Right from the onset, it is obvious that great thought and consideration has gone into this production in a small community hall – and it pays off in spades. With the American and Russian flags adorning either side of the stage and the preshow announcements made in both US English and Russian, it is obvious that this is a tale of two disparate countries and cultures – and this is carried throughout with attention to appropriate costumes and largely consistent accents for both Americans and Russians. The General of the European country, supported by his two soldiers and deaf Archbishop, have English accents to reflect the neutrality of their status between the two superpowers and so the tone is established and reinforced throughout.
The scenery (Jon Morgan) is cleverly designed so that the town's main square, complete with almost smoothly-working clockwork figures on the clock tower (delightful silent cameos by Lola Barrett, Beth Bowers and Maria Gora), opens out to reveal the interiors of the two Embassies, reflecting both the similarities and differences between the two countries. The lighting (Barry Kitchen), despite being a basic rig in a limited community venue, is effective in demarcating the different areas of residence and subtly reflects the transition between night, through sunrise and into the bright light of day, enhanced by equally well designed, well placed and well timed sound effects (JJ and Rachel Craig).
But this production is more than merely aesthetically and technically pleasing. There may have been a few barely noticeable hesitations on opening night, but Pete Burton's direction has ensured that this is also a production of high quality performances throughout the well-cast company, with really good pace, clarity and characterizations (arguably stereotypical, but that is part of the satire of Ustinov's witty yet deep comedy). Almost every movement, gesture and expression is full of purpose and meaning, but equally as impressive are the moments of stillness, intentional pauses and grounding.
Paul Jones (suave, strong-willed and passionate Igor Romanoff) and Kate Robbins (feisty, privileged and contrary Juliet Moulsworth) are a charming and engaging couple, with a convincing connection between them as the star-crossed lovers, but both as equally compelling and assured individually in their dialogue and non-verbal performances. In clear view of the audience for much of the play in their individual bedrooms beneath the national flags, even when the focus is on the action on the main part of the stage, their subtle actions reinforce the progression of the play while rarely, if ever, pulling focus from those actors with dialogue on the main stage.
Morgan is excellent as the General of this imaginary European country, authoritative yet benevolent and jovial, the ultimate diplomate as he seeks to bring peace between the two opposing ambassadors; his comic timing is great and he seems perfectly at ease breaking the fourth wall of theatre as he addresses the audience directly, giving explanatory monologues with ease and panache. Neil Sharman and Adrian Barrett are ideal support for him as the two nominal soldiers of the country's army, enjoying a terrific rapport between themselves and Morgan, with Sharman the more naïve and affable of the two against Barrett's wiser and more assertive compatriot – an excellent comic duo providing light relief during some of the more intense moments.
Both Colin Carter (brash, larger-than-life American ambassador, Hooper Moulsworth) and Tim Ponsford (rigid, emotionally-detached Russian ambassador, Vadim Romanoff) brilliantly depict strong and powerful political representatives of their countries and heads of their respective families, yet the conflict and despair that they feel at times is equally palpable as they struggle to come to terms with their political convictions and familial love.
Although not without its minor faults, Bishopstoke Players (under Burton's skilful direction, ensuring great comic timing, purposeful movement and sensitive interpretation) have vividly brought to life Ustinov's brilliant storytelling, gentle humour yet sharp wit and insightful narrative – in short, a very, very good and enjoyable production, well worth seeing!
Runs until Saturday 19 May 2018, 7:30pm nightly.
Sardines Magazine
http://www.sardinesmagazine.co.uk/reviews/review.php?REVIEW-Bishopstoke%20Players-Romanoff%20and%20Juliet&reviewsID=3215
society/company: Bishopstoke Players
performance date: 17 May 2018
venue: Bishopstoke Memorial Hall, Riverside, Bishopstoke, Eastleigh SO50 6LQ
reviewer/s: Bob Heather
A busy little hamlet on the edge of Eastleigh in Hampshire, Bishopstoke is a place I have ventured many times in the past. The Peter Ustinov comedy Romanoff and Juliet one of those plays I have been aware of for more years than I care to remember, but never actually got round to seeing. I knew that it was set in the capital city of the smallest country in Europe, somewhere between the Soviet East and an American stronghold in the west, and that the play is very loosely based on Shakespeare's Romeo and Juliet – but title kind of gives that away.
The usual pre-curtain theatre announcements are in an American accent, then repeated in Russian. A brilliant way to start, but a little long -winded by the time they got through everything they wanted to say.
The lights come up on a wonderful, brilliantly devised set with an opening scene featuring two horizontally-positioned soldiers 'on guard' playing a word game between before their General's arrival. He is in the same mind-frame as his minions, seemingly not bothered what is going on in the country – made slightly obvious when they mention they would only ever used blank rounds in their guns. The three of them open the play with plenty of humour.
Jon Morgan as the General and Neil Sharman and Adrian Barrett as the two soldiers, are nothing short of brilliant, receiving many laughs – not only from Ustinov's script, but also from their actions, expressions and visual comedy. These three are the main foil for the action of the play, and I automatically went into smile-mode whenever they came onstage.
With the three stooges still onstage, the star-crossed lovers enter and are equally wonderful. The pair also find lots of humour from Ustinov's words but making them so much better with the use of well-timed expressions.
Kate Robbins is her usual magnificent self as Juliet, playing the part with great humour, as do all the cast. Paul Jones is the Russian ambassador's son, playing the role it to a high degree. As Igor Romanov, I love the way everything always falls into place for this character – who expects nothing less. He finds the humour in every word and move.
Juliet's parents, Hooper (Colin Carter) and Beulah (Katie Pink) Moulsworth are both well played, but Hooper's accent started to irritate slightly by the end of the evening. Having said that, it's an accent I hear from a lot of Americans. Juliet's betrothed, Freddie Vanderstuyt (Arthur Moore) gives a strong performance and really gets her teeth into the role.
On the Russian side, Igor's parents Vadim and Evdokia Romanoff (Tim Ponsford and Angela Wallis) are also nicely done, their accents working beautifully. Ponsford's anger is completely believable.
Marfa Zlotochienko (Emma Braggins) doesn't have a big role, but when on she certainly makes her presence felt. Richard Bevis-Lacey as the 'Spy', is a revalation; a brilliant performance finding laughter from every scene.
Small but much-needed are the figures in the clock played by juniors Lola Barrett, Beth Bowers and Maria Gora. It's a shame the bell is placed too high, resulting in the figures always missing (even though the bell still sounds). Little things like this should might have been rectified before opening night.
Jon Morgan's striking set boasts the front view of a castle-style building with a central ornate clock with figures (aforementioned Bishopstoke Players Juniors) passing round it on the hour to strike the bell. The 'West' side would open up to show the interior on the American embassy when required and the same with the 'East' side for the Russian embassy. The set is very well-conceived and never once did I see any dodgy set-shaking you sometimes get with similar grand scale designs.
The whole show is well directed by Pete Burton. Great lighting from Barry Kitchen, with sound from JJ and Rachel Craig. The costumes are excellent and ideal for the production, thanks to Julia Foster.
Romanoff and Juliet is a very good play and well-performed in this production. The pace is great for the first two acts, but becomes a little pedestrianised during act three, causing it to labour a little. But I quibble.
I am looking forward to going back to Bishopstoke for their next production in September to see The Vicar of Dibley.