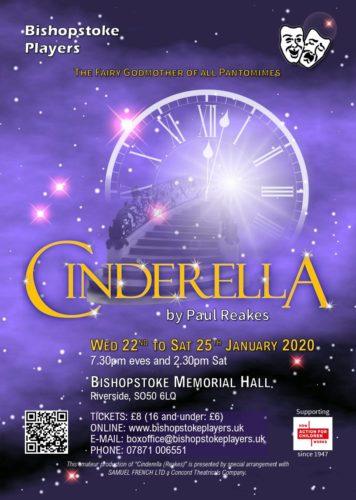 Cinderella
By Paul Reakes
Directed by: Emma Braggins
Production Dates: 22nd – 25th January 2020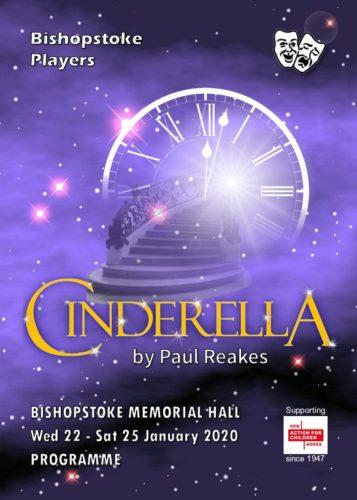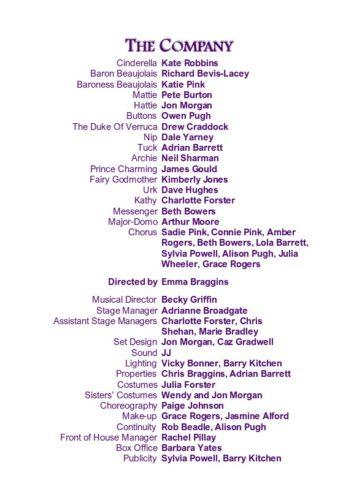 PHOTOS
PRESS RELEASE
Polish your glass slippers, dust off your carriage and prepare for midnight as Bishopstoke Players present the Fairy Godmother of all pantomimes, "Cinderella"!
While poor, downtrodden Cinderella is being bullied and bossed around by her cruel stepmother and ugly stepsisters, Prince Charming has left to travel the world, and Pantomania is now governed by the selfish Duke of Verruca. However, when the Prince returns to take on his duty as king, the duke refuses to relinquish power. Luckily, faithful Buttons and his friend Kathy are around to work wonders, with of course the magical help of the Fairy Godmother.
Will Cinderella make it to the ball and back again before midnight? Will the glass slipper fit? And will Cinderella live happily ever after with her handsome Prince Charming?
This popular fairy tale has been brought to a new, magical life by that master writer of pantomime, Paul Reakes, in a traditional family panto filled with lots of laughter and plenty of traditional audience participation.
"Cinderella" is coming to Bishopstoke Memorial Hall from Wednesday 22nd to Saturday 25th January 2020 at 7.30pm, with a 2.30 matinee on Saturday 25th.
Tickets are £8 (£6 for those aged 16 or under) and are available from www.bishopstokeplayers.uk/buy-tickets/ or email boxoffice@bishopstokeplayers.uk or phone 07871 006551.
As with all Bishopstoke Players' productions, proceeds will be donated to the charity Action for Children.
This amateur production of "Cinderella (Reakes)" is presented by special arrangement with SAMUEL FRENCH LTD a Concord Theatricals Company.
REVIEWS
Encore Reviews
www.facebook.com/EncoreReview/posts/504889753486816?tn=K-R
Encore Reviews is at The Bishopstoke Memorial Hall.
REVIEW: CINDERELLA – BISHOPSTOKE PLAYERS
In the current climate of Brexit and Megxit, an escape to the world of Pantomime is certainly tempting! Established since 1947, Bishopstoke Players has become a crown jewel in the local community, and community spirit is evident from the moment you arrive at Memorial Hall. For many years, I have been coming to the group's annual pantomime so I was intrigued to see their version of this classic.
Cinderella is the "Fairy Godmother of all Pantomimes" and it's happily ever after storyline captivates children (and adults!) of all ages. This year, Bishopstoke presented Cinderella in a slightly alternative way, with a few extra characters and an unexpected plot twist. This popular fairy tale has been modernised by writer Paul Reakes alongside traditional elements of panto filled with lots of laughter, plenty of audience participation and maybe one or two It's Behind You thrown in for good measure (Oh yes they do!)
Kate Robbins (Cinderella) performs the iconic role graciously with such ease, all added with a dash of Disney sparkle – and not to mention her beautiful singing voice! James Gould (Prince Charming) is a very smooth principal and excels in his performance as the dashing royal. Owen Pugh (Buttons) gave a confident and enthusiastic performance. Katie Pink (Baroness Beaujolais) alongside Pete Burton (Mattie) and Jon Morgan (Hattie) bring the comedy to the pantomime. As a trio, they work really well together. It's not easy to find three performers who can bounce off each other as well as they did in this performance. The ugly-sister's (number of) costumes were the highlight of the show and credit should certainly go to Julia Forster, Wendy and Jon Morgan for providing so many outfits. To have a different outfit for every entrance is by no means an easy task, and it certainly did not go amiss by the audience – well done to the Costume Department! The principal characters were well supported by an enthusiastic and strong ensemble. It is refreshing to see the younger generation encouraged into performing.
For me, the production was lacking special effects, technical aspects and general pantomime 'magic'. Sadly, the singing of individual solos and duets were lost due to the lack of microphones. In particular, Cinderella's transformation scene could have been more impressive with just some basic use of technical elements such as pyrotechnics, stage smoke or haze, a double layered costume and better props which would have brought the wow factor to the production. At certain points during the show, a little more direction would have been beneficial to tidy up some scenes.
Bishopstoke Players certainly put on a good evening of entertainment for the local community and that's what the pantomime season is all about! Also, I congratulate and commend the group for their continuous support of the 'Action for Children' charity which is certainly at the heart of the Bishopstoke Players!
Join Cinderella at the Ball at Bishopstoke Memorial Hall this week. The pantomime runs until Saturday 25th January 2020.
Scene One Plus
: Bishopstoke Players
: Bishopstoke Memorial Hall, Bishopstoke
: Sarah Hobbs
: 24 January 2020
Bishopstoke Players is a small group of locals, eager to please with their annual pantomime. With an adapted version of the traditional tale, the cast of 20-25 put their all into this performance, and going to see the pantomime was a great way to escape the January blues.
Kate Robbins' captivating portrayal of Cinderella alongside the 'charming' Prince Charming played by James Gould were quite literally a perfect match – thank goodness the shoe fitted! Their onstage chemistry went hand and hand and they both must be congratulated in holding this show together.
Baroness Beaujolais (Katie Pink) and Baron Beaujolais (Richard Bevis-Lacey) had fabulous onstage rapport. Owen Pugh (Buttons) had the audience participation aspect of panto down to a fine art and Kimberly Jones played a sparkly Fairy Godmother – I only wish the script had included more of her part, to add to the panto magic and sparkle!
The chorus enthusiastically performed a few routines, albeit a little out of time in places, however the four young children in the chorus were full of energy and excitement.
Hattie and Mattie (Pete Burton and Jon Morgan) were walking comedy, with some great one-liners, which had a lot of the audience giggling away. One impressive part of these two was the amount of costumes they had – I believe they had a different costume nearly every time they came on stage and for this the costume department of Julia Forster and Wendy and Jon Morgan should be congratulated.
The Duke of Verruca (Drew Craddock) had the audience booing from the moment he stepped on stage. His two side kicks Nip and Tuck (Dale Yarney and Adrian Barrett) soon realised his evil plan and tried not to get caught up in it all. These two were full of energy on stage and added to the overall enjoyment of this performance.
Other members of the cast had smaller walk on roles which again added to the overall production and had the audience responding, laughing, booing and hissing!
There were a couple of laboured scenes in the second half, however overall, the audience really enjoyed this typical village pantomime in a traditional village hall, and it was clear just how much the group enjoy performing together.
Congratulations must go to the whole group for their continued support to the charity Action For Children.
Get into your carriages and head down to Bishopstoke Memorial Hall to catch this panto before it's too late! Tickets are £8 and there are two performances today (25 January).
Sardines Magazine
www.sardinesmagazine.co.uk/reviews/review.php?REVIEW-Bishopstoke+Players-Cinderella&reviewsID=3846&fbclid=IwAR0Kf0IHggeJGFykppMCE9sh7Bn2d7hgGQxjXBn-iPL14t09yPvi2wSoLeI
society/company: Bishopstoke Players
performance date: 22 Jan 2020
venue: Bishopstoke Memorial Hall, Riverside, Bishopstoke, Eastleigh SO50 6LQ
reviewer/s: Meri Mackney
Bishopstoke Memorial Hall was warm and welcoming tonight as a nearly full audience settled to enjoy the annual January pantomime, again supporting Action for Children. This entertaining adaptation by Paul Reakes is filled with quips, songs and (perhaps a little too much) audience interaction. The largely adult audience had come prepared to enjoy themselves and readily engaged with the actors. This was as well as the plot relies in places upon the audience making the expected and traditional responses, not to mention being required to sing along to cover the final costume changes.
This production, the directorial debut of Emma Braggins, is a colourful feast with a named cast of sixteen, plus a chorus of nine – no small undertaking for a novice director and it is greatly to her credit that I would not have suspected it to be her debut if I hadn't read it in the programme notes. Opening night nerves were apparent in the opening song and dance but the confidence of the main cast soon set the mood for the evening. This company contains some fine singing voices, most notable tonight in Cinderella (a charming and appealing Kate Robbins), Prince Charming (James Gould – looking suitably handsome) and Buttons (Owen Pugh). Owen Pugh in particular had a lot of audience interaction and quickly gained their goodwill and participation. Sadly some sound inbalance, and a tendency to sing directly to one another instead of cheating it out to the audience, resulted in some of the singing being lost. However, I'm sure this will have been sorted by the next performance.
The set design (Jon Morgan, Caz Gradwell) is excellent, adapting to represent at least eight locations very effectively. It also contributed to the success of the extended chase sequence, which, to everyone's credit, was well-timed and entertaining. Lighting and sound, except in those songs, and props were just what was needed. High praise must go to the costumes (Julia Forster) and particularly to the sisters' myriad dazzling costumes, separately credited to Wendy and Jon Morgan. I lost count of the costume changes!
We were treated to two genuinely funny comic double acts – the sisters Mattie (Pete Burton) and Hattie (Jon Morgan) and the guards Nip (Dale Yarney) and Tuck (Adrian Barrett). Both pairings had some excellent moments and worked well at engaging the audience.
In a universally strong cast it is difficult to single anyone out, but I particularly enjoyed the hapless Archie (Neil Sharman), the evil Duke of Verruca (Drew Craddock) and the interplay between Baron and Baroness Beaujolais. Richard Bevis-Lacey as the meek Baron had some lovely asides but tended to speak them a little too quietly. This created an amusing contrast with Katie Pink's Baroness, who positively thundered in places, but it was a shame to be straining to hear the asides.
All in all a thoroughly enjoyable evening. The show runs until Saturday with a matinee as well as an evening performance on the Saturday.