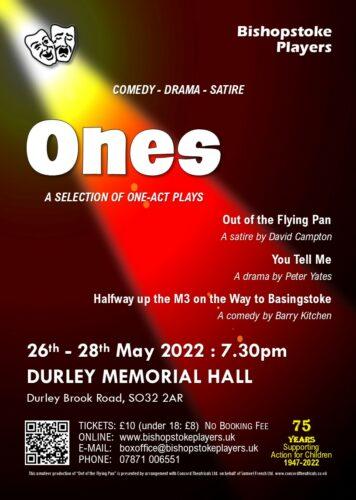 Ones – a selection of one-act plays
Out of the Flying Pan
By David Campton
Directed by Barry Kitchen
You Tell Me
By Peter Yates
Directed by Peter Yates
Halfway up the M3 on the Way to Basingstoke
By Barry Kitchen
Directed by Barbara Yates
Production Dates: 26th – 28th May 2022
Location: Durley Memorial Hall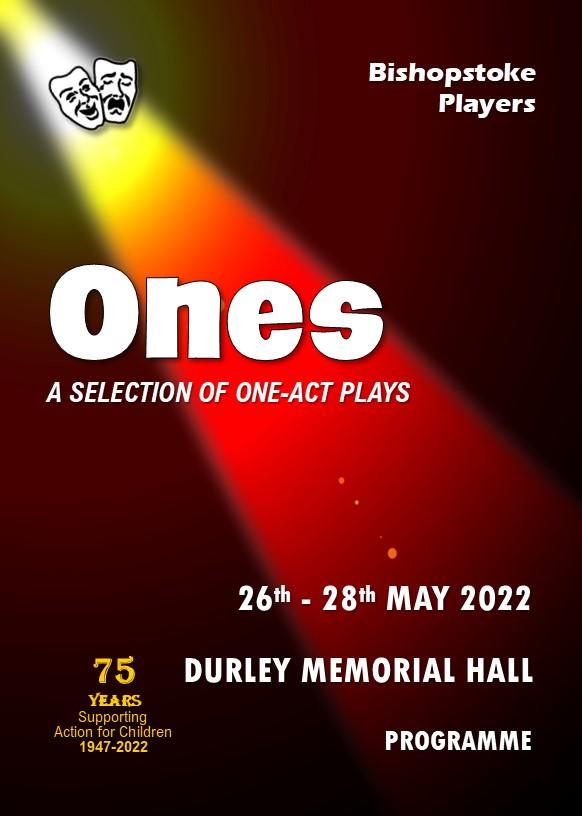 PHOTOS
PRESS RELEASE
AWARD-WINNING PLAYS IN MAY!
When we were founded 75 years ago, our predecessors presented short plays in and around Bishopstoke as part of their fund-raising activities for the National Children's Home (now Action for Children).
Then, forty years later, we began entering plays in one-act drama festivals, a hugely enjoyable activity which we continue to this day.
We've rarely presented these as a standalone production but, in our anniversary year, we thought we'd show you what we get up to with these plays, hence 'Ones'.
Fresh from their success in the Totton, Henley and Maidenhead drama festivals, we'll be presenting 'Out of the Flying Pan', a satire by David Campton, and 'You Tell Me', a family drama by Peter Yates (note: there is some strong language in this play).
These plays have won a number of awards at several drama festivals in the region, culminating with 'Out of the Flying Pan' being runner-up at both the Totton and Henley festivals and winning the prestigious Maidenhead Drama Festival, so you can be sure of an evening of quality entertainment!
To complete the evening's line up we'll be presenting 'Halfway up the M3 on the Way to Basingstoke', a comedy by Barry Kitchen which we presented at drama festivals several years ago – a 'play that goes wrong', which left its audience in stitches back then and we see no reason why it should not do so again!
So come and join us at Durley Memorial Hall (Durley Brook Road, SO32 2AR) from 26th to 28th May at 7.30pm. Tickets are £10 (£8 for under-18) and are available online (now with no booking fee), or email boxoffice@bishopstokeplayers.uk, or phone 07871 006551.
As with all our plays, proceeds are donated annually to Action for Children
REVIEW
SceneOne+
http://sceneoneplus.com/ones-2/
: Bishopstoke Players: Durley Memorial Hall, Durley: Anne Waggott: 27 May 2022
In 1947, to raise much needed funds for their newly formed Society, Bishopstoke Players performed short plays and sketches in Bishopstoke back gardens. In 2022, fresh from a successful, award-winning trio of Drama Festival appearances, they return to their roots with a trio of one act plays to celebrate Bishopstoke Players' 75th year.
Ones is an impressive collection of short plays that showcase the depth of talent amongst the Bishopstoke Players, and it's easy to see why they have received so many awards in the recent Festivals.
The evening opens with Out Of The Flying Pan, a superbly performed example of 'Theatre of the Absurd'. It's a particular style of post-World War II play, written to expose the absurdity of human life through "illogical, meaningless, and deliberately confusing action and dialogue".
As the name suggests, the dialogue is totally absurd! The script is very difficult to learn as it's so nonsensical – although, arguably, it made more sense than many of the recent rhetoric across all political sides! It also means that the actors have to be 100% secure knowing their lines, as there's no reference point to pick up the thread or way to paraphrase should they forget their words; by the way, they didn't!
Pete Burton and Tim Ponsford, under Barry Kitchen's first class direction, are both outstanding. They deliver the ludicrous conversation with as much conviction and commitment as the most poignant and meaningful script would demand. Each has exquisite comic timing, both verbally and physically, while having the confidence to maintain silence and intentionally uncomfortable long pauses as the characters refuse to yield ground or power to the other.
This may be 'Theatre of the Absurd' of the highest order – and yet it also depicts a strong message about the 'absurdity of war and conflict', particularly poignant and relevant in the current climate.
It's a tough act to follow – and yet the family drama, You Tell Me (written and directed by Bishopstoke Players' own Peter Yates), does so with style, despite the added challenge of one of the main characters being struck down with illness two days earlier! Pete Burton stepped into the breach at the eleventh hour as DI Stephen Morrison with a masterclass performance, incorporating the use of his script on stage as an integral part of his character, and a vocal presentation that would have worked just as well in an audio drama as his overall stage performance.
The pithy script is brought to life with passion by Lizzie Sellars as Lexi Lennon, troubled twin daughter of local MP Rachel Lennon (Marion Harding), accused of a crime and considered guilty until proven innocent, while her mother is guilty of neglecting and dismissing her daughter in favour of her own reputation and career. The only real support for Lexi comes from DC Zara Grant (charismatic Kimberley Jones) and fellow suspect Jo (up-and-coming Lola Barrett).
In a case of life imitating art imitating life, the evening concludes with another original short-play, Half Way Up The M3 To Basingstoke, written by Barry Kitchen and directed by Barbara Yates. It's a scenario familiar to all involved in amateur dramatics at one time or another, made even more popular through the BBC production The Goes Wrong Show: melodramatic ham acting, inept production crew and a shockingly bad script!
Thankfully, this only applies to the characters' performances in the new play being taken to a drama festival (written by a pizza-place proprietor rather than a recognised playwright), rather than the Bishopstoke Players! The quartet of cast members are hilariously portrayed by Drew Craddock, Adrian Barrett, Vicky Bonner and Rachel Pillay, with clear and comical distinctions between their characters and alter egos. It's an uplifting and highly amusing way to end the evening!
With excellent sound effects and deceptively simple lighting in the village hall enhancing each one act play, Bishopstoke Players prove they are very worthy winners of their Drama Festival awards. If you have tickets for the remaining performance on Saturday 28 May at 7.30pm in Durley Memorial Hall, you're in for a treat!