Robin Hood and the Silver Arrow
By Charles Philip
Directed by: Adrian Barrett
Production Dates: 31st March – 2nd April 2022
Location: Durley Memorial Hall
PHOTOS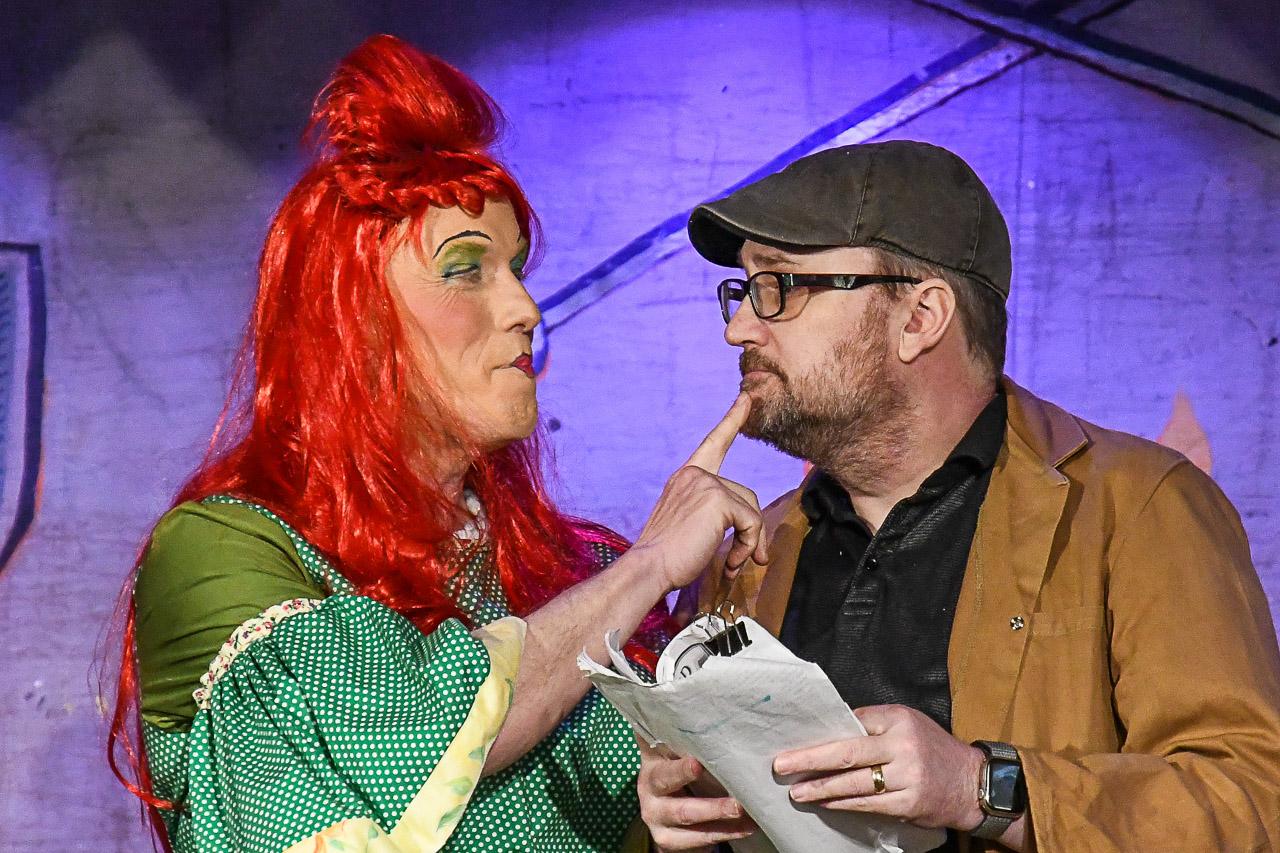 PRESS RELEASE
(Revised press release after postponement from the original dates due to Covid-19)
New Dates!!! This year's panto, "Robin Hood and the Silver Arrow", will now take to the stage at Durley Memorial Hall from 31st March until 2nd April.
Loved by the good, feared by the bad, everybody's favourite outlaw, Robin Hood, is on a mission to outwit the dastardly Sir Guy of Gisbourne in order to win the coveted Silver Arrow.
Get ready to cheer the goodies and boo the baddies in this tale about everybody's favourite outlaw, brought to new life by Charles Philip in a traditional family panto filled with lots of laughter and plenty of traditional audience participation.
Packed with jokes and laugh-out-loud moments, "Robin Hood and the Silver Arrow" will come to Durley Memorial Hall (Durley Brook Road, SO32 2AR) on Thursday to Saturday, 31st March to 2nd April 2022 at 7.30pm each evening and with a Saturday matinee at 2.30pm.
Tickets are £8 (£6 for those under 18) and are available from https://www.bishopstokeplayers.uk/buy-tickets/ or email boxoffice@bishopstokeplayers.uk or phone 07871 006551.
As with all Bishopstoke Players' productions, proceeds will be donated to Action for Children.
Please note the change from our usual venue following the closure of Bishopstoke Memorial Hall.
If you have tickets for the previous dates and have not received an email regarding exchange or refund, please drop us a message or email support@bishopstokeplayers.uk
REVIEWS
Encore Reviews
1 April

REVIEW

Robin Hood

Bishopstoke Players
"A feel-good pantomime"
Since 1947, Bishopstoke Players have been staging plays, pantomimes and everything in-between. Tonight's show was the first production at their temporary new home, Durley Memorial Hall.
Tonight's performance was a fantastic feel-good pantomime along with a modern twist thrown in for good measure. There was also a refreshing community feel within the venue from all those helping front of house who made the audience feel incredibly welcome.
On-stage, the cast were clearly very well rehearsed in their roles and really showed their passion, enjoyment and enthusiasm for what they were doing. There were some hilarious moments from different characters with perfect comedic timing. The show certainly was well received by the audience, with plenty of participation including some good ol' pantomime traditions thrown in (oh yes it was!)
What really stood out for me was the very small cast of fifteen members, however it felt like a much larger scaled production and that is such a compliment to the cast and production team. This show wouldn't look out of place in a much larger venue!
Whilst on the subject of writing and direction, I very much enjoyed the modern jokes and references in the script to Brexit and Covid-19. It showed the writer has kept up with the current climate and was very topical. On a personal note, the show took me back to my younger self with an element of nostalgia so hats off to Bishopstoke Players for an evening of feel-good fun.
The comedy duo of Dwayne Pipe & Wayne Bow (played by Kimberley Jones & Alison Pugh) were particularly outstanding in their roles. They bounced off each other superbly and I'd love to see them working together again. Also, I thoroughly enjoyed the performance of the long suffering stage manager Mr Pendergrass (played by Kevin Bowers). Lizzie Sellars was very confident in the lead role of Robin Hood and portrayed her part very well.
There are certainly some bright stars of the future within Bishopstoke Players. We would highly recommend!
Thank you for a wonderful evening!
Reviewed by Jamie for Encore Reviews
Sardines Magazine
https://www.sardinesmagazine.co.uk/review/robin-hood-and-the-silver-arrow
Show: Robin Hood and the Silver Arrow
Society: Bishopstoke Players
Venue: Durley Memorial Hall. Durley Brook Road, SO32 2AR
Credits: Charles Philip
Type: Sardines
Author: Bob Heather
Performance Date: 31/03/2022
It was a very cold evening as I ventured out to visit the Bishopstoke Players at their temporary location at Durley Memorial Hall whilst their old home of Bishopstoke Village Hall is being re-built. The reason for my cold weather expedition was to watch their latest pantomime Robin Hood and the Silver Arrow written by newcomer to scriptwriting, Charles Philip. The panto, like many, up and down the country, was delayed from its original seasonal spot due to the Covid pandemic, that and the need to find a new performance venue.
The Bishopstoke Players generally perform great shows, but this wasn't one of them – this one was a brilliant show – a belter, the best I've ever seen from this little company, full of sparkle and zest.
The stage wasn't very big so they had to economise on set and scenery, but that didn't make any difference to the spectacle of the show. One idea I thought was a great piece of initiative, was the scene of 'Gisbourne Castle', then later on in the show they were in 'The Court Of the Sheriff of Nottingham' The set was exactly the same one used for both scenes. When Will Scarlet mentioned they must be in the wrong castle, it looked like Gisbourne's, the comedy duo assured him that the Sheriff liked Gisbourne's castle so much, he decided to decorate it exactly the same.
It was a very well written panto script thanks to Charles Philip, who I later discovered was none other than the director writing under an assumed name because he didn't want it known. (But I promised him that I wouldn't tell anyone). He had everything right, good humour that was largely up-to-date with how the world is changing, good ideas throughout. He kept to the traditions of pantomime as much as he could. At least the baddie always entered stage left. At the point of the show where Robin was introducing his band of Merry Men (sorry Merry People), he asked 'Where's Little John?' to which the reply came that wasn't allowed out today, so they picked a random person 'A planted stooge', and asked him to play the part. He agreed as long as his granddaughter could come with him. Robin agreed and the show carried on calling her Extra Little John.
The cast were great and were on top of their lines, and knew exactly where they were supposed to be and what they were supposed to be doing.
Lizzie Sellars played a very over-the-top Robin Hood, her twisty-turny body actions were worthy of many comedy parts in the future. She had a very loud voice, almost too loud, but it went well with her character. I'm sure we'll see more of her in future productions.
Lola Barrett played the very demure Maid Marion, but as the show progressed she became less demure and more assertive to the rest of the cast as the role demanded. She is another fine juvenile player that will no doubt be up there with the best of the adults in the near future.
Dame Henrietta Hood was brilliantly portrayed by Steve Hunter. I'm sure I have seen him in the dame role in a couple of pantos before, and he worked the audience like a pro. I'm sure he could make his way to treading the boards for a few professional pantomime companies in the future. He certainly knew how to dress the part, along with the ideal make-up and mannerisms. I would certainly have no qualms in giving him the part of dame if I was in the position of casting a panto.
Sir Guy of Gisbourne was very well played by Richard Bevis-Lacey. He oozed wickedness and was rightly 'boo'd' by the audience at every entrance. He played the crowd very well and was dressed the part, with a shaven head, long black leather coat over black clothing including leather trousers. He had all the mannerisms of a top baddie. The only way to make him that little bit more evil, was to slow his movements down. Baddies don't move fast, they glide wickedly along the stage, and their turns and mannerisms are made even more evil by being slow and deliberate with a few more snarls out towards the audience.
The Sheriff of Nottingham was brilliantly played by Colin Carter. He wasn't the baddie of the show as is normally portrayed with other Robin Hood pantos, but was a very likable man in the script. He was very tall, and a little bit mixed up as he appeared on stage as a Western Sherriff complete with Stetson, six-gun and an American drawl.
Little John was performed by Pete Burton, along with Extra Little John portrayed by Ella Cannavo. They always appeared together and were both very good in their parts, Little John often being put in his place by his granddaughter.
Friar Tuck was played by Stefan Dimitrov. His character was really the narrator of the show, although he did have extra appearances in a few other scenes during the show.
The final member of Robin's merry band was Will Scarlett, and was played by very ably by Beth Bowers.
Dwayne Pipe and Wayne Bow were the comedy duo played by Kimberly Jones and Alison Pugh. They both did a great job in the roles they played, typical dopy characters. They were Sir Guy's henchmen and therefore acted evilly to Robin, his Merry People, and to the audience in general, but immediately were weak and cowed whenever they were with Sir Guy. Beautifully played.
Mr Pendergrass was played by Kevin Bowers, and was the scene shifter and stage hand that often came on stage telling the actors to get a move on as he needed to change the scenery or alter something on stage. This was an excellent idea of casting an extra person into the show.
King John is a great little cameo role played by Ali Broeders. She also plays one of the 'Merry People'. The other two 'Merrys' are played by Amber Baily and Annette Barrett. They all played their parts with Gusto.
The whole panto was ably directed by Adrian Barrett, who also wrote the script, as I mentioned earlier. He had everything working beautifully with no glitches, or if there were, they didn't show. There were no awkward spaces while the stage crew changed the set, and believe me; I've seen a lot of that in my time. The whole show ran very smoothly with lots of humour, although a few jokes were very near the mark, but I don't think they children would have noticed.
The Choreography worked very well. Simple moves, but all in time with each other – ideal for pantomime. Thanks to the plotting and planning by Ali Broeders, Charlotte Forster and Steve Hunter.
Chris Shehan was the stage manager, ably assisted by Anthony Kent. They had everything under control and the show ran like clockwork. Lighting was by Barry Kitchen and sound by JJ. Jon Morgan and Adrian Barrett supplying and making the fantastic props.
The costumes were all ideal for the show thanks to Julia Forster. With Grace Rogers, Charlotte Forster and Kimberly Jones applying the make-up.
All in all, it was a very good show. I thoroughly enjoyed every minute of it as did the whole audience going by their reactions. They even supplied great colour programmes, which not every society does. Next time Bishopstoke Players put on a pantomime, I would absolutely recommend you book tickets. Don't miss it.
SceneOne+
http://sceneoneplus.com/robin-hood-and-the-silver-arrow-2/
: Bishopstoke Players: Durley Memorial Hall, Durley : E.Giles: 31 March 2022
The Bishopstoke Players return once again for their latest Pantomime Robin Hood And The Silver Arrow. After sadly being forced to re-schedule from earlier in the year, the cast were ready and raring to go! Performed at the Durley Memorial Hall this show is community theatre at its finest. If you're looking for a night of giggles, this is the place to be.
Perhaps lesser-known as a Pantomime, we follow everybody's favourite outlaws, Robin Hood, Little John (with extra little John!) and their band of 'Merry People' on a quest to outwit the evil Sir Guy of Gisbourne. Robin tries to win the silver arrow and ultimately the Maid Marion's heart, in an archery contest set up as a trap by comedy duo Dwayne Pipe and Wayne Bow.
The show opens with a welcome from the narrator of the story: Friar Tuck (Stefan Dimitrov) and while this is not the traditional opening of a chorus village scene we see in most Pantomimes, it suited the production well and Dimitrov dipped in and out of the action with ease.
Title role Robin Hood (Lizzie Sellars) is a confident lead with good comedic timing while Dame Henriette Hood (Steve Hunter) dons the most interesting costumes of the evening, including a lovely pair of melons and an AstroTurf grass skirt – a great traditional Dame.
Maid Marion (Lola Barrett) delivers her lines with expressive skill and precision, ensuring every word was heard, she certainly showed the audience a thing or two about equal rights!
Sir Guy of Gisbourne (Richard Bevis-Lacey) had the audience booing throughout including a dramatic (spoiler alert) death! Dwayne Pipe (Kimberly Jones), Wayne Bow (Alison Pugh) and Sherriff of Nottingham (Colin Carter) all portray evil-villains well and their 'questionable' accents add to the comedy! Will Scarlett (Beth Bowers) delivers her lines with focus and Mr Pendergrass (Kevin Bowers) is lovable as the on-stage-stage-manager although his stripping scene whilst funny, did seem a little mis-placed.
A mention must go to Grandfather and Granddaughter duo: Little John (Pete Burton) and Extra Little John (Ella Cannavo). The pair were naturals on stage with some witty one-liners and had the audience fooled into thinking they were audience members when they find themselves in the action – great direction here from Adrian Barrett!
Sterling effort from the chorus (of only three people). A particular favourite moment was watching them 'clean' the stage during the song 'Under Pressure'.
The cast had a total of only 15 people, and they had the audience in stitches with jokes and slap-stick humour. Pace in the second half could have been a little quicker but this is likely to pick-up throughout the run. A few opening night nerves showed in some cast, but this did not detract from an enjoyable and traditional evening of Pantomime! Oh no it didn't!
The Bishopstoke Players used no microphones, but every song and line could still be heard due to the size of the venue. Lighting complimented the production as did the convincing costumes. A real sense of community is felt here as the audience enjoyed a hilarious sing-along, the cast really did have the audience in the palm of their hands!
Robin Hood And The Silver Arrow at Durley Memorial Hall (Durley Brook Road, SO32 2AR) 31st March to 2nd April 2022 at 7.30pm each evening and with a Saturday matinee at 2.30pm.