Dirty Dusting
by Ed Waugh and Trevor Wood
Directed by: Maggie Allington and Louisa Asquith
Production Dates: 28th-30th September 2023
Location: Durley Memorial Hall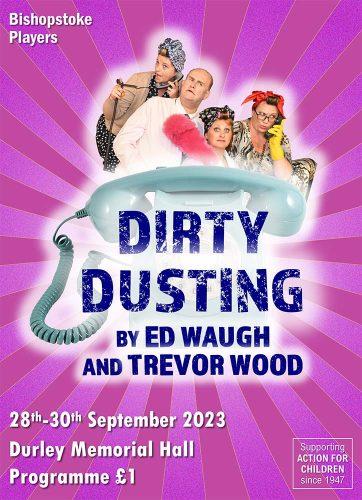 PHOTOS
PRESS RELEASE
Announcing our September performance – 'Dirty Dusting'!
Dirty Dusting is a hilarious comedy about three pensioners, Gladys, Olive and Elsie, who decide to supplement their income as cleaners by starting a telephone sex chatline…and that's where the fun (and filth!) really begins!
The 'Telephone Belles' are the only chatline girls with dusters, attitude and their very own bus passes! Their bosses don't know about it, their families would never guess and their very willing customers are none the wiser…
Don't miss the original old-timers who become good-time girls in this must-see comedy from Bishopstoke Players. It's pure theatrical Viagra!
Performances are in Durley Memorial Hall from Thurs 28th to Sat 30th September 2023 at 7.30 (doors open 7pm). Tickets are £12 (£8 under-18s) and are available online only at www.bishopstokeplayers.uk/buy-tickets (no booking fee) or via our ticket line 07871 006551 or email boxoffice@bishopstokeplayers.uk
Please note that this play contains adult themes and is considered unsuitable for anyone aged under 16.
As we are proud to have done every year since 1947, proceeds will be donated to the charity Action for Children.
REVIEWS
Encore Reviews
https://www.facebook.com/encorereviews/posts/pfbid0Ng8Vn6kiYbrzPMeeWoBYrhBM2YL5Zg7tzWGVzk4Nyia5mVyTrCyqdx3rMasyy3ujl
Review – Dirty Dusting
Bishopstoke Players
The latest production by Bishopstoke Players 'Dirty Dusting' is an entertaining comedy full of innuendos and witty jokes which had the audience in stitches from the off!
With only 4 actors in this production, all must have a mention, as they all had so much to learn and remember!
Elsie, played by Katie Pink was superb and delivered her lines with excellent comic timing and clear diction. Vicky Bonner played the role of Gladys, her friend for years and her portrayal of this character was spot on. Watching the two of them, I really would think they had been friends for years! Finishing the trio was Olive played by Rachel Pillay, a member of the guides… (oh sorry, I should mention half of those years spent in the guides were as a guide leader!!), who simply added to the comedy trio! Congratulations all of you!
Although the ladies were the main focus of this show, Dave 'the boss' played by Colin Carter used great facial expressions during his performance, and his Scooby impression at the end had the audience in stitches!
The set for Dirty Dusting was based in an office, and this simple yet effective set was used to its full potential.
Once again a very enjoyable evening was had watching the Bishopstoke Players' production of 'Dirty Dusting'.
This production is on tomorrow and Saturday at Durley Memorial Hall.
Scene One Plus
https://sceneoneplus.com/dirty-dusting/
Bishopstoke Players
Durley Memorial Hall, Durley
Hannah-Cait Harrison
28 September 2023
My Thursday evening this week was taken up by "Dirty Dusting", the most recent outing from The Bishopstoke Players.
The play caught my attention when it was first proposed to me, for its hilarious premise. Three octogenarian cleaning ladies, who are about to lose their jobs, decide to start operating a telephone sex line, in order to make ends meet, and the script did not disappoint. It's littered with double entendres that the best cleaning polish couldn't erase and had a slew of one-liners that had me laughing up a storm.
I was a little disappointed by the show itself however, as the energy was sucked out of the show every time a line was messed up, and sadly it happened so often, that it put a bit of a dampener on things. When these things happen (and they, of course, do in any show), my advice would be not to loop back a few lines each time, but to cover the mistake by continuing on and saying things like "I've forgotten my line" or "I don't know what I was going to say next" every couple of minutes, and the actor's over-reliance on the prompt, made for an uncomfortable evening in places.
That being said, the three women in the shared lead roles of Gladys, Elsie and Olive all delivered laugh-out-loud lines, at least once, so it was enjoyable at times.
My star of the show has to go to Katie Pink who played Elsie, as she was larger than life, had cracking comic timing and really knew how to milk comedy out of everything she did, including operating a wheelie chair in such a way that I cackled.
I'd definitely be up for giving this show a second viewing, as I really enjoyed the script itself and would hope that each cast member goes home and studies said script tonight, as it had the potential to be a really enjoyable production.
"Dirty Dusting" runs until the 30th of September at Durley Memorial Hall.