No Sex, Please – We're British!
by Anthony Marriott and Alistair Foot
Directed by: Barry Kitchen
Production Dates: 28th-30th September 2017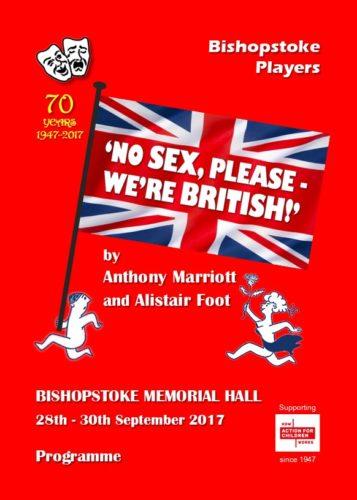 PRESS RELEASE
This riotous comic farce notched up a staggeringly successful sixteen-year run in London's West End. It premièred in 1971 and ran to 6,761 performances.
Peter and Frances could reasonably expect to look forward to a calm, happy start to their married life. Owing to an innocent mistake, however, they find themselves inundated with dubious material from the 'Scandinavian Import Company'. Senior bank officials, Peter's snobbish mother, and a prim, respectable bank cashier become inextricably entangled in the rumbustious events that follow.
This production marks Bishopstoke Players' 70th anniversary and, like all previous productions, proceeds will be donated to the children's charity 'Action for Children'.
This amateur production of "No Sex Please – We're British!" is presented by special arrangement with SAMUEL FRENCH, LTD.
PHOTOS
REVIEWS
Scene1+
https://sceneoneplus.com/no-sex-please-were-british-2/
NO SEX, PLEASE – WE'RE BRITISH
Bishopstoke Players Bishopstoke Memorial Hall David Putley 28.09.17
This crowd-pleaser by Anthony Marriott and Alistair Foot played for over 6000 performances in its heyday of the early 1970s: a less pc world in which 'Carry on' and Benny Hill styles of titillation were far more acceptable and deemed humourful. Today, its rather weak script, based on delivery of ever-increasing amounts of pornography, culminating in two young ladies, does not quite make sense when the whole play could have been completed in the first ten minutes if the said horrific post cards had been stored in the study, in a cupboard or under the sink and no-one would been the wiser.
But this is farce and whilst the first half is much about introduction of plot and characters, the second half is rocket-fuelled with various comings and goings, lies and more convoluted lies until the whole cast finally makes it on stage for the denouement.
Given the setting of the play, the cast does an amazingly energetic job in producing some split-second timing. A robust set copes well with all the inevitable door slammings, but credit has to be given to sound, staged direction/choreography, props and lighting. The way the tiny space of that stage is put to full use in this play is admirable and director Barry Kitchen should be proud of his cast, who simply do not put a foot wrong. Dialogue is crisp and well delivered in a hall where acoustics are not brilliant.
James Gould and Kate Robbins make a welcome return to the Bishopstoke stage as the husband and wife team, both of them staying just the right side of maniacal. The relationship with a fully on-form and brilliant Colin Carter as the put-upon Brian is pure joy. The play has been well rehearsed and choreographed falls and slamming kitchen hatches are all coped with beautifully by this trio, the parrot scene being particularly well received by the audience. You can actually feel the tiredness of these three towards the end, such is their energy throughout and relief at the ending.
Maggie Allington is suitably horrendous as the mother-in-law from hell, but shows her lighter side as her assignations with a solid Drew Craddock as Bromhead reflect a slightly more reserved love affair against the glut of salaciousness that is being kept from them. Tim Ponsford is also on top form as the nerdy Mr Needham, his scenes with the pert and lively ladies of Abi Jeffery and Olivia Clarke being expertly done. Pete Burton adds gravitas in his role as Superintendent Paul Kevin Bowers, an adept delivery man.
It is a team effort, however, each very much relying on all the others to be word- and movement-perfect, each entrance and exit timed incredibly well with the right prop in the right place at the right time. It all makes for a jolly romp.
There are further performances on 29 and 30 September, both starting at 7.30.
Sardines Magazine
http://www.sardinesmagazine.co.uk/reviews/review.php?REVIEW-Bishopstoke+Players-No+Sex%2C+Please+-+We%27re+British%21&reviewsID=2985
society/company: Bishopstoke Players (directory)
performance date: 28 Sep 2017
venue: Bishopstoke Memorial Hall, Riverside, Bishopstoke, Eastleigh, SO50 6LQ
reviewer/s: Bob Heather (Sardines review)
Once again I made my way to Bishopstoke Memorial Hall to watch Bishopstoke Players latest offering. As usual, there was a large crowd of their regulars waiting at the doors to get the best seats. Bishys, as they are known locally, have a large following with many people coming from various other areas of Hampshire just to see their performances.
The show opened to typical 70s music, but why did they chose Hot Butter's Popcorn, it didn't sum up any part of the play whatsoever? However, I am not here to review their music choice, but the play itself.
The curtains opened on to a decently constructed set that summed up the flat above a bank perfectly, although there were a few odd wobbles here and there. Kate Robbins in her role as Frances Hunter entered, shortly followed by her husband Peter (James Gould). Peter and Frances were soon joined by Peter's mother Eleanor (Maggie Allington) who had come to stay, and the play started in earnest.
Robbins and Gould are both very capable actors and played their parts beautifully, I have seen them both in previous shows and they are very enjoyable to watch. They blended together admirably and really seemed to gel. Both of them used accents that suited their roles as an up-and-coming future bank manager and his wife from mid-Berkshire.
Bank employee Brian Runnicles, played by Colin Carter, was full of pep and he certainly bought pace into the production, but throughout the performance, his voice, ideal at first, gradually morphed into a camp version of Frank Spencer. By the end of the play he sounded like a cross between Michael Crawford and Kenneth Williams. However, his acting couldn't really be faulted. He just needs to stick with his chosen voice and keep to it right through the play.
Of the rest of the cast, I like Tim Ponsford's portrayal of Mr Needham the visiting accountant, he played the part beautifully right through with all the required actions from pomposity when he first arrived, to nervous wreck when he was being set upon by two nubile girls, in fact he got over his nervousness with the girls so well, he looked as though he was starting to enjoy it (perhaps he wasn't acting that time).
Abbi Jeffery and Olivia Clarke in the small roles of Susan and Barbara, the afore-said pair of nubile girls that somehow or other, arrived at the flat were played brilliantly. Barabara (Olivia Clarke) didn't really have much to say apart from a few excited squeals, but the girls were both very believable right through – especially for a pair of 70s party girls with an added agenda. Abi Jeffery played the role of Susan to a high level and had the command of her words and actions right through her small role.
All the other players in this classic British farce played their parts well although there were areas that certainly needed a little more pace.
The lighting (Owen Pugh) was just right, and the sound (JJ) was spot-on.
Costumes were ideal for the time period, and a lot of thought had gone into them, including the right period of underwear for Frances, although they overlooked the up-to-date version of boxer shorts worn by Brian Runnicles for a few moments in Act 2.
It was well directed by Barry Kitchen, but as a director of a period piece he needs to make sure all the actions and props relate to the 70s – there were a few property foo-pahs, one of which was a translucent plastic lighter that wasn't available on the market for at least another twenty years – I won't mention the others. But all that aside, it was word perfect and ran almost smoothly, although a little more pace throughout wouldn't have gone amiss. Most of the pace seemed to be lost during actions on stage rather that during the dialogue – it just needed tightening up a little. Apart from that, it was one of the best Bishy productions I've seen.