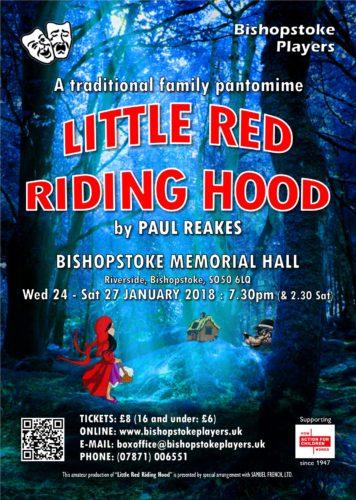 Bishopstoke Players brings a traditional family pantomime to the Memorial Hall in January, with its production of "Little Red Riding Hood", by Paul Reakes.
Pantovia is in turmoil! Prince Rupert, the next in line to the throne, has fled the land and the evil Count De Cash is ruler! However a dashing young man turns up with his butler to try to solve the crisis. But what can he do and why does his butler keep him close by? Will Pantovia once again become a bustling town or is it doomed forever?
This traditional pantomime is full of songs, dances and jokes, along with twists and turns at every corner and plenty of opportunity for audience participation!
Performances are at Bishopstoke Memorial Hall from Wednesday 24th to Saturday 27th January 2018 at 7.30pm, with a matinee on Saturday 27th at 2.30pm. Tickets are £8 (£6 for those aged 16 or under) and are available on this page, email or phone (07871) 006551.
Like all Bishopstoke Players' productions, proceeds will be donated to the charity Action for Children.
This amateur production of "Little Red Riding Hood" is presented by special arrangement with SAMUEL FRENCH, LTD.